Know the great wines of burgundy
sale of Grand Cru Burgundy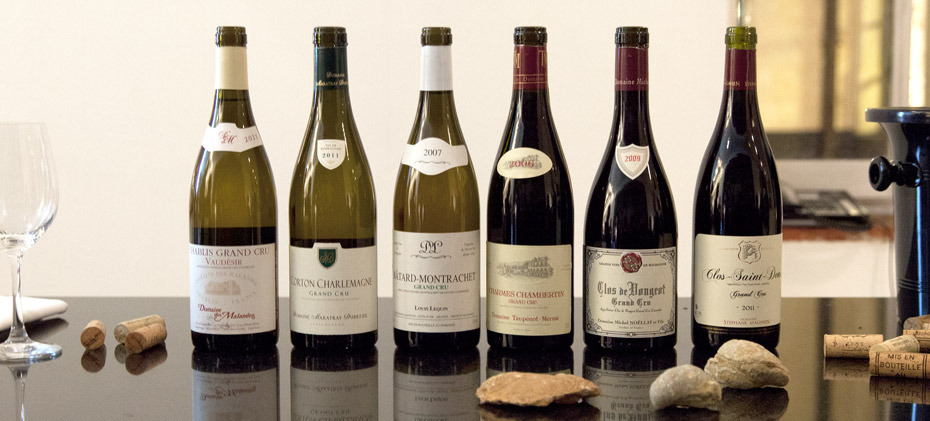 The Burgundian offers you a unique selection of grands crus of Burgundy on sale on the Online shop.
The 33 grands Crus of Burgundy represent only 1% of the total production of wine in Burgundy. Ranked among the greatest wines in the world, these grands crus are the level of appellation, the most prestigious : a wine that is in the category of grands crus may not have the best ranking.
This is the land that determines the level of quality of the wines : the more a wine is considered qualitative, the more he would be entitled to a prestigious appellation. The sale, the higher up in level of designation, and the more we will naturally go up in price.
How are classified as the grands crus of Burgundy ?
In contrast to the different classifications of Bordeaux, which classify in general to the Castles, these are the areas of production and, hence, the plots of vines that are delimited by appellations, which have four different levels :
- Regional appellations (approximately 50% of the wine production)
- The village appellations (or communal), as Meursault, Givry, Mercurey, Chablis, Pommard....
- On the 1st Raw, always contiguous to the name of a village (example Pommard 1er Cru, Gevrey Chambertin 1er Cru....). There are more than 600 first different vintages.
- And finally the Grands Crus, the number of 33 which 7 are white, and which each have a proper name.
Here you can find the list of grand cru Burgundy on sale on the online shop
List of 33 Grands Crus in Burgundy :
Chablis :
Chablis grand cru (Blanchot, Bougros, Les Clos, Grenouilles, Preuses, Valmur and Vaudésir) ;
Coast of Nights :
Ruchottes-chambertin, mazis-chambertin, chambertin-clos-de-bèze, chapelle-chambertin, chambertin, charmes-chambertin, griotte-chambertin, latricières-chambertin and mazoyères-chambertin, clos-de-la-roche, clos-saint-denis, clos-des-lambrays, clos-de-tart , bonnes-mares and musigny, clos-de-vougeot , échezeaux and grands-échezeaux ,richebourg, la romanée, romanée-conti, romanée-saint-vivant, the-high-street-and-task
Côte de Beaune :
Corton and corton-charlemagne , bâtard-montrachet, welcome-bastard-montrachet, montrachet and chevalier-montrachet , criots-bâtard-montrachet and montrachet.