The Côte Chalonnaise
in Burgundy
The Côte Chalonnaise is a small vineyard of 4,000 hectares, it extends from Chagny to Gengoux-le-National in the department of Saône-et-Loire (71).


The white and red wines of the Côte Chalonnaise are quality wines and nevertheless remain affordable.
Its vineyards are sunnier than those of northern Burgundy and benefit from hot summers, dry autumns and cold winters.
The soils of the Côte Chalonnaise inherit the geology of the Jurassic. Since they are composed of rock-limestone, clay, sand or marl.
It was in the 6th century that Grégoire of Tours evoked the wines of the Côte. Then over the years, the wines developed under the influence of the clergy.
The Côte Chalonnaise is exceptional
Its landscapes are varied, between hills and plots of vines hide some treasures :


the splendid feudal castle of Rully, is an old medieval fortress which dominates the vineyard and which has a pretty park where visitors can stroll quietly, built between the 11th and 12th centuries.


the medieval village of Givry, made up of very beautiful churches such as the church of Saint-Pierre or that of Saint-Paul, which were built during the 18th century by Emiland Gauthey.


The Côte Chalonnaise is made up of five appellations (spread from north to south, it extends over 25 kilometers in length and 5 to 6 kilometers in width) :


Bouzeron
Rully
Mercurey
Givry
Montagny


Mercurey, Givry and Rully offer white and red wines while Bouzeron (to the north) and Montagny (to the south) only produce white wines. The Côte Chalonnaise produces 55% white and 45% red.


For Rully, Mercurey and Givry, the soils come from Jurassic limestones while in Montagny, the soils appear more marly.


Surmounted by the limestone cornice of the Bajocian, these appellations benefit from a climate favorable to the ripening of the grapes.


In Burgundy, the different plots determine a regional, communal, premier cru and grand cru appellation depending on their geographical location.


Hierarchy of appellations in Burgundy
In order to better navigate, its 83 appellations have been divided into 4 levels :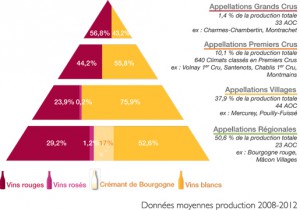 The grands crus appellations 
The  premiers crus appellations
The communales appellations  (villages)
The regionales appellations  (sometimes called "generic" or "sub-regional")






The Côte Chalonnaise


Since 1985, Paul de Launay and Aubert de Villaine (associate manager of the Domaine of the Romanée-Conti and winegrower in Bouzeron) have led a long fight so that the Burgundy Côte Chalonnaise appellation is recognized by the National Institute of Quality and Health (INAO) and it was in 1990 that the decree was created.



The grands crus of Burgundy are at the top of the hierarchy since they have the best exposure and the most favorable microclimates. They are big names known internationally.
 


Unfortunately no grand cru in the Côte Chalonnaise but it claims 140 climates classified as premier cru !



•





The premiers crus of Burgundy are found below the grands crus but they remain great wines as well. Each bottle is followed by the name of the plot and respects strict specifications (spacing between vines, size, ...).

Below is the list of villages on the Côte Chalonnaise offering premiers crus appellations, classified by village :
The climates classified as premier cru for the commune of Rully :


Agneux
Chapitre
Grésigny
La Bressande
La Fosse
La Pucelle
La Renarde
Le Meix Cadot
Le Meix Caillet
Les Champs Cloux
Les Cloux
Les Margotés
Les Montpalais
Les Pierres
Les Préaux
Marissou
Molesme
Pillot
Rabourcé
Raclot
Vauvry
The climates classified as premier cru for the commune of Chagny :
Clos du Chaigne (à Jean de France)
Clos Saint-Jacques









The climates classified as premier cru for the commune of Givry :


A Vigne Rouge
Cellier aux Moines
Clos Charlé
Clos de la Baraude
Clos du Cras Long
Clos du Vernoy
Clos Jus
Clos Marceaux
Clos Marole
Clos Saint-Paul
Clos Saint-Pierre
Clos Salomon
Crauzot
En Choue
En Cras Long
La Baraude
La Grande Berge
La Plante
Le Paradis
Le Petit Prétan
Le Vigron
Les Bois Chevaux
Les Bois Gautiers
Les Grandes Vignes
Les Grands Prétans
Petit Marole
Servoisine
The climates classified as premier cru for the commune of Mercurey :


Clos des Barraults
Clos des Grands Voyens
Clos des Myglands
Clos Marcilly
Clos Tonnerre
Clos Voyens
En Sazenay
Grand Clos Fortoul
Griffères
La Bondue
La Cailloute
La Levrière
La Mission
Le Clos du Roy
Le Clos l'Evêque
Les Byots
Les Champs Martin
Les Combins
Les Crêts
Les Croichots
Les Naugues
Les Puillets
Les Saumonts
Les Vasées
Les Velley
The climates classified as premier cru for the commune of Saint-Martin-sous-Montaigu:


Clos de Paradis
La Chassière
Les Fourneaux
Les Montaigus
Les Ruell
The climates classified as premier cru for the commune of Montagny :


Champ Toizeau
Creux de Beaux
Champs
L'Epaule
Le Cloux
Les Beaux Champs
Les Bordes
Les Bouchots
Les Burnins
Les Charmelottes
Les Combes
Les Garchères
Les Gouresses
Les Jardins
Les Las
Les Macles
Les Maroques
Les Paquiers
Les Perrières
Les Platières
Les Resses
Les Treuffères
Les Vignes Derrière
Montcuchot
Montorge
Saint-Morille
Saint-Ytages
Sous les Feilles
Vigne du Soleil
Vignes Couland
Vignes Saint-Pierre
Vignes sur le Cloux
The climates classified as premier cru for the commune of Buxy :


Cornevent
La Condemine du Vieux Château
La Grande Pièce4
Le Clos Chaudron
Le Clouzot
Le Vieux Château
Les Bassets
Les Bonneveaux
Les Coudrettes
Les Pidances
Les Vignes des Près
Les Vignes Longues
Mont Laurent
The climates classified as premier cru for the commune of Saint-Vallerin :


La Moulière
Les Coères
Les Crabouletttes
The climates classified as premier cru for the commune of Jully-lès-Buxy : 


Chazelle
Les Chaniots
Les Coères


The term "climat" designates the parcels of land in Burgundy. This word takes into account the know-how of the winegrowers, the geological characteristics, the particular exhibitions where each plot is precisely delimited. 
•


The Côte Chalonnaise vineyard covers 4,475 hectares in communal and regional appellations.
The communal appellations of Burgundy correspond to the name of the village where the plot is located. 


The AOC Burgundy Côte Chalonnaise concerns the following 44 municipalities (its air covers 3 665 hectares) :


Commune of Chagny :


Aluze
Bouzeron
Chagny
Chamilly
Chassey-le-Camp
Dennevy
Fontaines
Remigny (partie sud)
Rully
Saint-Gilles
Saint-Léger-sur-Dheune
Commune of Givry :


Barizey
Dracy-le-Fort
Givry
Jambles
Mellecey
Mercurey  (including Bourgneuf-Val-d'Or)
Rosey
Saint-Denis-de-Vaux
Saint-Désert
Saint-Jean-de-Vaux
Saint-Mard-de-Vaux
Saint-Martin-sous-Montaigu
Commune of Buxy :


Bissey-sous-Cruchaud
Bissy-sur-Fley
Buxy
Cersot
Chenôves
Culles-les-Roches
Fley
Jully-lès-Buxy
Montagny-lès-Buxy
Moroges
Saint-Boil
Saint-Martin-du-Tartre
Saint-Maurice-des-Champs
Saint-Vallerin
Santilly
Sassangy
Saules
Sercy
Commune of Mont-Saint-Vincent :


Genouilly
Saint-Clément-sur-Guye
Vaux-en-Pré
•
Regional appellations


All the following regional appellations are produced in the Côte Chalonnaise :


Bourgogne Côte Chalonnaise (in red, the wine offers notes of red fruits, finesse and in white floral notes, dried fruits and on the palate a beautiful tenderness)
Bourgogne Aligoté
Bourgogne Passe-Tout-Grains
Bourgogne Mousseux
Coteaux Bourguignons
Crémants de Bourgogne (Rully is the main production commune)
Bourgogne Clairet Côte Chalonnaise or Bourgogne rosé Côte Chalonnaise (for the rosés)
The Côte Chalonnaise offers unique wines : aligoté in Bouzeron, white in Montagny, crémant in Rully, red in Mercurey ...

Bouzeron


Bouzeron is located at the gates of Chagny, next to Rully. Its soils are composed of Barthonian limestone, Oxfordian brown marl and a little clay. It is a continental climate, with beautiful east-south-east exposure and around 270 meters above sea level.

Since the 1970s Aubert de Villaine (co-manager of Domaine of the Romanée-Conti) has been trying to give a good image of aligoté.

It is in 1979, that the village obtains the right to attach the mention "aligoté of Bouzeron" and in 1997 the aligoté becomes a communal appellation "bouzeron" as only grape variety the aligoté (a very old grape variety), the appellation represents an area of approximately 51 hectares.

Bouzeron is pale yellow in color, on the nose it reveals an aromatic bouquet of white flowers (acacia, ...), white fruits (apple, ...), green fruits (lemon, ...), fruits dry (hazelnut, ...), rocks (iodine, flint, ...). On the palate, the wine is tender, silky and structured. It is best enjoyed with gougères, Burgundian snails, parsley ham, seafood or goat cheese.
=> Bouzeron is only recognized as a village AOC for its production of aligoté. Chardonnays and pinots noirs located at the bottom of the slope in the town are sold as Bourgognes or Bourgogne-Côte-Chalonnaise.


In general, the reds of the Côte Chalonnaise (Rully, Mercurey, Givry) come from Pinot Noir planted on limestone or calcic soils with less clay.
 


Rully
It was in 1939 that the AOC Rully was created, it is located south of Chagny, in the extension of the Côte de Beaune.

Renowned for its white wines (light, fruity) and its crémant !

The white wines represent an area of 223 hectares and the red wines of 133 hectares. The cultivated grape varieties are pinot noir and chardonnay.

Its white wines are produced on soils covered with scree, white marl and predominantly limestone clay. The vines are exposed to the east and south-east; all these characteristics are suitable for chardonnay.

The white Rully is straightforward, elegant, with good minerality and aging potential up to 3 years. This wine is accompanied with pan-fried fish or in sauce.

The red Rully is light, elegant, fruity and has an aging potential of up to 5 years. It can be associated with roast poultry, and for offal lovers it is a delight (liver, sweetbreads and kidneys cooked in sauce or in a pan).

=> At the end of the 19th century, Crémant de Rully began to be very popular with the villagers. At the time, we spoke of the capital of sparkling wine in Burgundy.


We owe this reputation to François Basile Hubert, a cooper from Champagne, who imported with him the method of making crémants. In those years there, the prize de mousse was a complicated manipulation and many bottles exploded… The Champagne cooper took four years to perfect his manufacturing method and it was in 1837 that he opened his own wine house, called Hubert Father and son.


It was in 1850 that sparkling wine experienced a real boom under the name of "Ay great sparkling wine from Rully", little by little sales developed for export. In 1975, the AOC Crémant de Bourgogne was created.


Currently, 10% of Crémant de Bourgogne still occurs in Rully and it is also one of the traditional centers of production the Crémant de Bourgogne.
Mercurey


It is the most important wine-growing village of the Côte Chalonnaise, it is also the largest AOC in Burgundy after Chablis. The village mainly produces red wine (an area equal to 539 hectares) but also a little white wine (an area equal to 111 hectares).


The AOC Mercurey is one of the oldest in France (created in 1936). The appellation is planted on clay-siliceous soils on limestone and a few ferruginous marls. The pinot noir grape prefers sun exposure while chardonnay resists altitude better, making them exceptional wines.


The red Mercureys are structured, tannic, vinous, spicy, peppery or even fruity wines, there is something for everyone ! Wines for laying down soften over time, develop other aromas, they can be forgotten for up to 10 years.


They can be enjoyed with roast pork, entrecote, piece of lamb or Cîteaux cheese.


The white Mercureys unveil notes of citrus (lemon, ...), in the mouth, they are warm, opulent. These expressive wines allow many pairings with shellfish, oysters, sweetbreads and pressed cheeses.
Givry


From the 14th century, the monks of Cluny and then of Cîteaux have succeeded over the years in promoting the wine of Givry, today it is an exceptional wine of great reputation.


Its vines are located in the center of a fault field, its soils are composed of brown limestone or limestone (Jurassic) and its premier crus rest on a limestone substrate from the Upper Oxfordian.


The premiers crus are real red wines to keep, over time the wine reveals aromas of red fruits (strawberries, ...), black fruits (blackberries, ...), flowers (violet, ...), sweet spices (liquorice, ...), salty spices (cloves, ...). They are tasted with tender meats, poultry, soft cheeses (Camembert, Brie de Meaux, ...).


The white Givry represents only one fifth of the vineyard, a well-balanced white wine, a nice roundness, aromas of white and yellow fruits (apple, ...), very pleasant on the palate. It goes perfectly with white meats, fish cooked in white butter, even uncooked pressed cheeses (Saint Nectaire, Cantal, ...).


=> The wines of Givry were very appreciated by King Henri IV, the red was his favorite, a marvel !



Montagny


Montagny is the southernmost appellation of the Côte Chalonnaise, its 300 hectare vineyard is located in 4 municipalities :


Buxy
Saint-Vallerin
Jully-lès-Buxy
Montagny-lès-Buxy


The AOC Montagny only offers white wine, the grape variety used is chardonnay. The soils are varied, some are based on lias and clayey triassic marls, topped with hard limestone with entroques from the Bajocian, others on sandstone limestone. The best vines are exposed east / south-east.


The Montagny appellation offers a delicate white wine, a bouquet with floral aromas, yellow and white fruit (peach, etc.), dried fruit (hazelnut, etc.), undergrowth (fern, .. .). On the palate, the wine is straightforward, racy, an incredible finesse and for the oldest we can feel minerality (it can be forgotten up to six years in the cellar).


These wines will be appreciated with oysters, crayfish, Burgundian snails, on veal in sauce, fish in white butter, Bresse poultry, cheeses (goat cheese, Saint-Nectaire, etc.) .


Wishing you a nice tasting!
THE 5 COMMUNAL APPELLATIONS OF THE CÔTE CHALONNAISE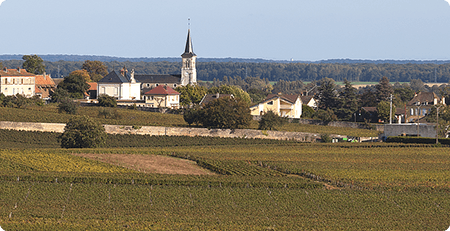 It is the only appellation that uses the 100% aligoté grape, a unique wine !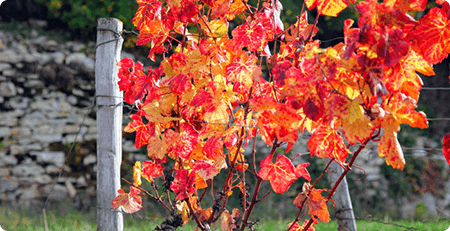 Known for its pleasant, sweet white wine and its AOC Crémant de Bourgogne.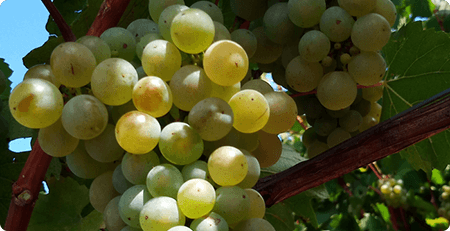 It is the most important wine-growing municipality in Burgundy after Chablis.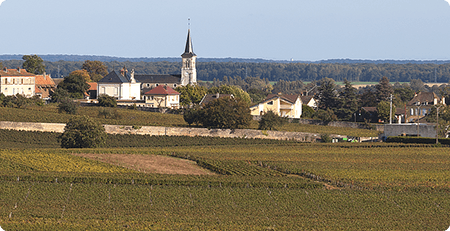 Pleasant white and red wines, on the fruit, well balanced, with good aging potential.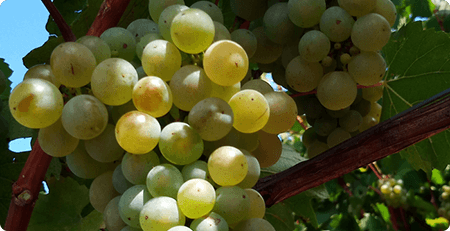 Montagny offers exclusively white wine, with aromas of flowers.