Chablis and the
Grand Auxerrois
The department of Yonne (89) consists of Chablis and the Grand Auxerrois (a four-leaf clover: Auxerrois, Jovinien, Vézelien and Tonnerrois), the wine region there further north of Burgundy.

The landscapes are magnificent between valleys, plateaus and hills… it is an archipelago of small vineyards (Joigny, Saint-Bris, Vézelay, Irancy, Epineuil) crowning a king, Chablis, whose vines embrace all the exposures.
The vines of Chablis and Grand Auxerrois benefit from a semi-continental climate. In summer, the sun is present with strong heat. Unlike long and harsh winters.
Chablis is the land of choice for Chardonnay, it is made up of Kimmeridgian and limestone soil with fossilized Jurassic shells. In the Mâconnais mainly limestone soil.
Chablis and the Grand Auxerrois

At the start of the Middle Ages, the Yonne department was the main supplier of wine to the Parisian market. It was in the 7th century that the production of Auxerre but also of Chablis supplied the capital, Normandy and the north of the country. Mainly in white wine but also in red wine (from the 14th century).
Chablis and the Grand Auxerrois are based on Jurassic geological soils (some 150 million years old) and Kimmeridgian, where limestone clays, marl and marly limestone alternate (50 to 100 meters thick). Also portlandian or Barrois limestone, hard and compact, often cracked.



From the 18th century, Chablis was recognized as a qualitative wine. It became the essential wine of elegant tables in Paris. He was advised by the team of the restaurant "Au Rocher de Candale", a true myth of Parisian catering. In the 19th century, most restaurants in the capital sold Chablis. It occupies an important place in the history of France.


Unfortunately in 1902 the French winegrowers lost 15% of their production due to phylloxera. It was even worse in Yonne, following severe spring frosts which destroyed more than 45% of the crops (they destroyed almost all of the plantations between 1957 and 1961). The vineyard will never be the same again… This is why farmers have replaced vines with cherry trees and cereals.


However, in 1961, winegrowers like André Durand in Epineuil, Henri Nallet in Tonnerre, William Fèvre and Jean Durup in Chablis were motivated to replant vines. Together they decided to plant plants on the most suitable slopes for cultivation.


In order to fight against spring frosts, the winegrowers have set up heaters, they allow to warm the atmosphere. It is a type of brazier, they are placed every seven meters, or 200 burners per hectare in order to maintain the ambient air at a temperature above 0 ° C. Its negative points are :


the cost (they burn 600 liters of fuel per hour per hectare)

pollution

the establishment


Other winegrowers sprinkle water on the vines, they are nozzles that send a mist in order to form a "cocoon" of insulating ice around the bud, they are then protected. They also use paraffin candles, electric heating cables.


Climate change disrupts the vineyards, excessive heat leads to lower yields, weakens vines and precipitates harvests.


Today, the Yonne department has a total of 7 000 hectares of vines

The grape varieties



Chardonnay is king


It is the most cultivated white grape in Burgundy and historic of Chablis, locally called Beaunois. Its wines particularly express the minerality (flint, pebbles, flint, ...) which comes from its Kimmeridgian limestone terroir.


Sauvignon


It is only found in Saint-Bris-le-Vineux. It was popularized in the 19th century by Parisian bistros who love charming and very aromatic wines. It is recognized by its compact bunches of a beautiful golden yellow.
Aligoté


This lively grape produces lemony wines and does well in Chitry.
Yonne is one of the only wine departments to have preserved some old grape varieties :
Sacy


This grape variety is disappearing, some winegrowers continue to plant it to produce Crémants de Bourgogne.
Melon (from Burgundy)


It is the traditional grape variety of Vézelay, it is authorized only in regional Burgundy appellation (and not in Burgundy Vézelay), it can also be called Muscadet (mainly in the Nantes region).


Pinot noir


Pinot Noir is known for its great red Burgundy wines, however in Chablis it is rarely planted since it struggles to produce pleasant wines. On the other hand, this grape variety is very appreciated on the terroir of the AOC Irancy, predominantly very limestone, it produces vintages of good quality. Global warming promotes the development of Pinot Noir.


Caesar


The Caesar was very popular in the 19th century (it would have been brought by the Roman legions) less now because vinified alone, it remains austere and very colorful. However, it is authorized up to 10% for the Irancy appellation where it provides a beautiful structure. It is a local characteristic.
Gamay


This grape variety, which appreciates siliceous and granitic soils, is not widely used in the Yonne because this type of soil is rare.



***


In Burgundy, the different plots determine a regional, municipal, premier cru and grand cru appellation depending on their geographical location.



Hierarchy of appellations in Burgundy
In order to better navigate, its 83 appellations have been divided into 4 levels :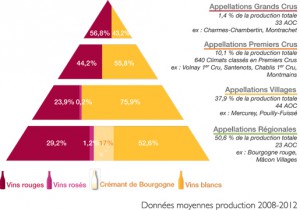 The grands crus appellations 
The  premiers crus appellations
The communales appellations  (villages)
The regionales appellations  (sometimes called "generic" or "sub-regional")
Chablis and the grand Auxerrois
The grands crus of Burgundy are at the top of the hierarchy since they have the best exposure and the most favorable microclimates. They are big names known internationally. 



The seven "climats" of the grands crus of Chablis (the AOC Chablis grand cru was created on January 13, 1938) : 
Blanchot
Bougros
Grenouilles
Les Clos
Les Preuses
Valmur
Vaudésir



The term "climat" designates the parcels of land in Burgundy. This word takes into account the know-how of the winegrowers, the geological characteristics, the particular exhibitions where each plot is precisely delimited.


•
The premiers crus of Burgundy are found below the grands crus but they also remain great wines. Each bottle is followed by the name of the plot and respects strict specifications (spacing between vines, size, ...).
 


The 41 premier cru "climats" of the Chablis appellation :



Berdiot
Chaume de Talvat
Côte de Jouan
Côte de Jouan
Côte de Léchet
Côte de Vaubarousse
Fourchaume
Côte de Fontenay
L'Homme Mort
Vaulorent
Vaupulent
Les Beauregards
Côte de Cuisy
Les Fourneaux
Côte des Prés-Girots
Morein
Mont de Milieu
Montée de Tonnerre
Chapelot
Côte de Bréchain
Pied d'Aloup
Montmains
Butteaux
Forêts
Vaillons
Beugnons
Chatains
les Epinottes
Les Lys
Mélinots
Roncières
Sécher
Vau de Vey
Vaux Ragons
Vau Ligneau
Vaucoupin
Vosgos
Vaugiraut


•
The communal appellations of Burgundy correspond to the name of the village where the plot is located.
Chablis and the Grand Auxerrois offer four communal appellations :


Chablis
Petit-chablis
Irancy
Saint-bris


These communal appellations can be followed by the name of its "climat" (explained above) which characterizes the controlled appellation of origin.


=> The appellation Vézelay has made a request to the National Institute of Origin and Quality (INAO), the file is being examined.



The difference between Chablis and Petit-Chablis :
The Chablis appellation (the largest in the vineyard) is produced in the municipalities of :


Beines
Béru
Chablis
Fyé
Milly
Poinchy
La Chapelle-Vaupelteigne
Chemilly-sur-Serein
Chichée
Collan
Courgis
Fleys
Fontenay-Près-Chablis
Lignorelles
Ligny-le-Châtel
Maligny
Poilly-sur-Serein
Préhy
Villy
Viviers


Its wines come from a blend of several plots and its soils are of great diversity: mainly Kimmeridgian limestone, with clay, colluvium of Portlandian limestone or marl.
The appellation Petit Chablis is spread over all the communes of the Chablis region and mainly covers the plateaus made up of Portlandian limestone.


•
These regional Burgundian appellations are produced in Chablisien and Yonne :


Bourgogne
Bourgogne Aligoté
Bourgogne Passe-Tout-Grains
Bourgogne Mousseux
Coteaux Bourguignons
Crémant de Bourgogne



Regional Burgundies can be associated with a village name (Bourgogne Epineuil, Bourgogne Côte d'Auxerre, Bourgogne Chitry, Bourgogne Coulanges, ...), they are pleasant wines typical of their terroirs.
 


The Chablis vineyards and the Grand Auxerrois offer remarkable wines !
Chablis


Chablis is the golden gate of Burgundy (which is located between Paris and Beaune), it covers the most beautiful coasts such as Fourchaume, Montée de Tonnerre or Mont de Milieu. This famous vineyard occupies 5,641 hectares of vines (area in 2018) known since the Cistercian era.


This appellation is dedicated to Chardonnay (a single color: white), with predominantly limestone, stony soils and Jurassic marls (Portlandian and Kimmeridgian), more suitable for the grape variety that generates fine and solid wines. Well exposed to the sun on both sides of the small valley of the Serein.


The Chablis and the Petit Chablis face north, south, west and east. As for the Chablis premier cru, they face south-east, facing the grands crus which are exposed to the south-west.



The Chablis are synonymous with a great dry white wine renowned throughout the world !
The Petit Chablis have a light and shiny golden color, with aromas of white flowers (acacia, ...), mixed with citrus notes (lemon, grapefruit, ...), the palate is tasty and light.


The Chablis express lively, fresh, light, fruity (lemon, ...) white wines with great clarity. He has a unique personality.


The premiers crus present a wide aromatic palette of white flowers (hawthorn, ...), fresh fruits (pear, green apple, ...) and dried fruits (hazelnut, almond, ...) after three to four years from the bottles, mineral aromas (pebbles, etc.) develop and a touch of freshness surprises the taste buds. It is a happiness ! These wines have good aging potential.


Chablis grands crus unveil a charming scent, remarkable elegance, embodying minerality (flint, flint, etc.) par excellence. Very good aging capacity (up to 20 years and more for certain climates), during aging the wine will be more full-bodied, longer flavors and intense aromas. It is a haute couture wine !


These appellations combine wonderfully with seafood, fish in sauce, white meats (poultry, etc.) and for the most prestigious with foie gras! You will not be disappointed.
Chablis is a wine for connoisseurs !



The Grand Auxerrois


To the north-west of Chablis, the Grand Auxerrois is given to the Yonne vineyards (excluding Chablis) which run alongside the rivers of Serein, Armançon and Yonne. Production of white wine (55%), red wine (24%), Crémant de Bourgogne (19%) and rosé (2%). Made up of four terroirs (with an area of 1,963 hectares) :



Auxerrois (to the south and south-east of the city of Auxerre)
Le Tonnerrois (near the town of Auxerre)
Le Vézelien (covers the municipalities of Vézelay, Asquins, Saint-Père and Tharoiseau)
Le Jovinien (overlooks the town of Joigny)
The Grand Auxerrois supplies the capitals of Europe via Paris by river to its wines of regional appellations of great diversity (white, red, rosé or sparkling). They have surprises in store for lovers of pleasant wines.


Its main appellations are located on predominantly limestone slopes, its climate is semi-continental (long and cold winters, wet springs and hot summers). The optimum altitude is between 130 and 250 meters and the best vines are exposed to the southwest.


The peripheral vineyards of Yonne offers niche wines such as Irancy for its red wine and Saint-Bris-les-Vineux for its sauvignon.
.
Irancy


This communal appellation created on February 28, 1999, is cultivated in three communes about fifteen kilometers from Auxerre :


Irancy produces exclusively red wine, during its elaboration, two grape varieties are used : Pinot Noir and Caesar (maximum 10%). Its soil benefits from limestone marls, favorable to grape varieties.



Irancy is characterized by its colorful color, fruity aromas, fine tannins and firmness. Caesar gives it good storage capacity. It can be served with white meat, soft cheeses or as an aperitif with friends.
Saint-Bris


This appellation was created by decree on January 10, 2003, it produces only white wine (grape varieties : sauvignon and sauvignon gris) within the delimited area of the Saint-Bris appellation.


In Saint-Bris-le-Vineux, these are marly slopes of the middle and upper Kimmeridgian. When you take a closer look you can see deposits of tiny comma-shaped oysters called exogyra virgula. It's incredible.


This wine has a very pale color, a yellow tinged with green. Its very expressive nose is characterized by an odor of crumpled blackcurrant leaf, aromas of exotic fruits (pineapple, ...), fresh grass, vegetables (pepper, ...). On the palate, the attack is straightforward and nicely balanced.


At mealtime, this wine is best enjoyed with oysters, seafood, cold meats or snails.


The development of Chablis wines and the Grand Auxerrois wonderfully illustrate the rigorous work of men for centuries.
THE 4 COMMUNAL APPELLATIONS OF Chablis and Grand Auxerrois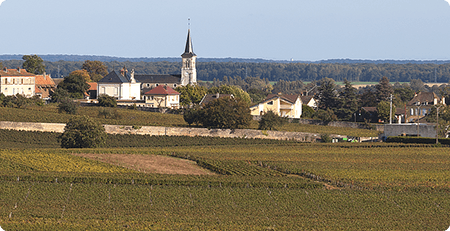 The wines of Chablis are of remarkable finesse and great minerality.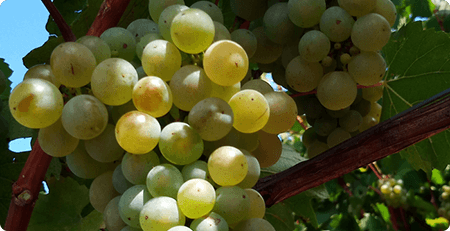 Petit-Chablis reveals a nose with aromas of citrus and flowers, light and pleasant.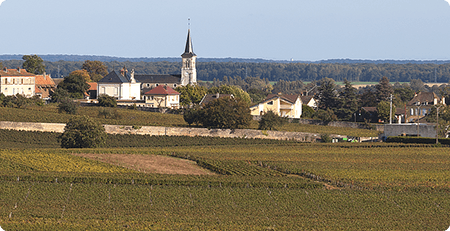 This appellation offers red wines with fruity aromas with fine tannins.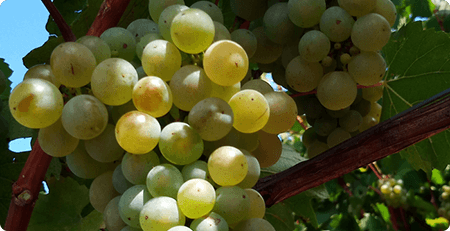 An expressive white wine, well balanced, fruity and a frank attack.