The Mâconnais vineyards are located in the south of the department, between Sennecey le Grand and Saint-Vérand, at the gateway to Beaujolais.


It extends over 35 kilometers long, 10 kilometers wide and represents a quarter of the Burgundy vineyard.

This region is delimited by two valleys : that of Grosne to the west and that of the Saône to the east.
The Mâconnais vines benefit from an oceanic climate with a southern tendency. More sunshine and less rain.
This wine region is made up of marl, clay, sand and stony scree soils. And sometimes very stony or on the contrary silty.
The monks established their own vineyard when the Abbey of Cluny was created, founded in 909 by Guillaume 1st, the Count of Mâcon.
The Mâconnais offers very good quality wines at competitive prices and with a worldwide reputation !


The southern gateway to Burgundy
Hills, valleys, varied landscapes, magnificent villages, thousands of hectares of vines established since Gallo-Roman times, ... the Mâconnais is an incredible region, to be visited as soon as possible !
This diversity makes it possible to find varied soils (brown calcareous, calcic, siliceous, clayey or sandy soils; often mixed with chailles or sandstone pebbles).


In Burgundy, the different plots determine a regional, municipal, premier cru and grand cru appellation depending on their geographical location.


Hierarchy of appellations in Burgundy
In order to better navigate, its 83 appellations have been divided into 4 levels :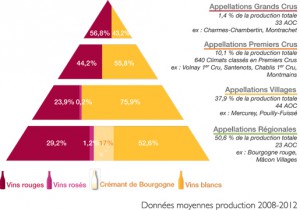 The grands crus appellations 
The  premiers crus appellations
The communales appellations  (villages)
The regionales appellations  (sometimes called "generic" or "sub-regional")





The Mâconnais
The Grands Crus of Burgundy are at the top of the hierarchy since they have the best exposure and the most favorable microclimates. They are big names known internationally.



Unfortunately no grand cru in the Mâconnais.



•
The first growths of Burgundy are found below the grands crus but they remain great wines as well. Each bottle is followed by the name of the plot and respects strict specifications (spacing between vines, size, ...). 



Big news : 22 climats in Premier Cru appellation for Pouilly-Fuissé
Previously, the Mâconnais was the only region of Burgundy not to have premier crus, which made it its weakness.



The 22 Climats in Premier Cru of the Pouilly-Fuissé appellation, by municipality :
Municipality of Fuissé :



Les Brulés
Les Perrières
Les Vignes Blanches
Le Clos
Les Ménétrières
Les Reisses
Municipality of Solutré-Pouilly : 



La Frérie
Le Clos de Solutré
En Servy
Aux Chailloux
Aux Bouthières
Au Vignerais
Pouilly
Vers Cras (part of the climate is found on Fuissé)

 
Municipality of Vergisson : 



En France
Sur La Roche
Les Crays
La Maréchaude

 
Municipality of Chaintré :



Les Chevrières
Le Clos de Monsieur Noly
Aux Quarts
Le Clos Reyssier
=> Other appellations of the Mâconnais have made a request to the National Institute of Origin and Quality (INAO) : Pouilly-Vinzelles, Pouilly-Loché and Saint-Véran (the file is under review).
To claim a Premier Cru, you have to start by vinifying the vintages separately and notifying the climate on the label, in order to prove to the INAO (decision-maker in the matter), that the terroir deserves to be classified.
The term "climat" designates the parcels of land in Burgundy. This word takes into account the know-how of the winegrowers, the geological characteristics, the particular exposures where each plot is precisely delimited. 


•


 The communal appellations of Burgundy correspond to the name of the village where the plot is located.
The Mâconnais offers five communal appellations :


Pouilly-fuissé
Pouilly-vinzelles
Pouilly-loché
Saint-véran
Viré-clessé
These communal appellations can be followed by the name of its "climat" (explained above) which characterizes the controlled appellation of origin.


•


The Mâconnais vineyard has 80% regional appellations.



These regional Burgundian appellations are produced in the Mâconnais :


Bourgogne
Bourgogne Aligoté
Bourgogne Passe-Tout-Grains
Bourgogne Mousseux
Coteaux Bourguignons
Of which 3 regional appellations are specific to Mâconnais (it produces white and red wines and very few rosé wines) :


Mâcon
Mâcon-Villages
Mâcon suivi du nom du village
=> As an anecdote, around 1660 Claude Brosse (a winemaker from Chasselas) loaded a few barrels of wine onto an ox cart and went to the Court of Versailles to introduce his wines to the Sun King. This is how Louis XIV bought wines from the Mâconnais and they were sold in the capital.
Chardonnay is omnipresent in the Mâconnais (80% of the region's plantations)
Mâcon and Mâcon-villages



Mâcon is the capital of Mâconnais.


It hosts the national wine fair of France, which takes place every year in May. In addition to the national wine competition of France where thousands of samples are tasted.



AOC Mâcon


The AOC Mâcon covers 3,500 hectares, its soil is composed of clay in the north, silica or granites in the south.


The Mâcon appellation mainly produces red wine made from Pinot Noir or Gamay (this grape still exists, in fact in the Middle Ages the Duchy of Burgundy asked to remove all the vines producing Gamay except in Mâconnais, since this variety land did not belong to him). Often sold as a regional appellation of Burgundy, these are lighter wines with a cellaring potential of 2 to 3 years. They can be served with cold cuts, grilled meats, poultry or a pot-au-feu.


=> Gamay cannot exceed 30% in a red burgundy or it will be called gamay burgundy.


It also offers white wine made from Chardonnay (3 to 5 years for wines to keep). Also rosé wine from Gamay or Pinot Noir.


=> Alphonse de Lamartine was a native of Mâcon, he worked in many sectors such as politics, poetry, literature and also in the vineyards of Mâcon. He was a great winemaker !



AOC Mâcon-villages


The Mâcon-Villages appellation is produced only in white from the Chardonnay grape variety, with an area equal to 3,800 hectares, its soils are well suited to the vines because they are poor and predominantly limestone.


Small exception for the village Serrières, which is the only one dedicated to red wine.


It offers round, tasty wines with an aging potential of 5 to 6 years.


Name of the 27 municipalities that can be added to that of Mâcon (representing 1,500 hectares) :


Azé
Bray
Burgy
Bussières
Chaintré
Chardonnay
Charnay-lès-Mâcon
Cruzille
Davayé
Fuissé
Igé
Loché
Lugny
Mancey
Milly-Lamartine
Montbellet
Péronne
Pierreclos
Prissé
La Roche-Vineuse
Saint-Gengoux-le-National
Solutré-Pouilly
Uchizy
Vergisson
Verzé
Vinzelles
The three appellations are :


Mâcon (regional appellation)
Mâcon followed by the name of the town
Mâcon-villages (regional appellation)
Pouilly-fuissé


Spurred on by the monks of Cluny, between the 11th and 12th centuries, the Pouilly-Fuissé vineyard takes off. The slopes are steep and covered with scree, the exposures vary greatly. The nature of the soil is varied, it can be clay-limestone from the Jurassic, composed of schists, sandstone limestones, green, black, purple or acid rocks.


This town is known throughout the world although it is not very extensive, the appellation has 773 hectares of vines, planted in 4 different villages (entirely dedicated to chardonnay) :


Fuissé
Solutré-Pouilly
Vergisson
Chaintré
Municipality of Fuissé :


Le Clos
Les Ménétrières
Les Perrières
Les Vignes Blanches
Vers Chânes
Municipality of Solutré-Pouilly :


En Montgarcin
En Servy
La Frérie
Les Bourthières
Le Clos
Les Chailloux
Les Morlays
Municipality of Vergisson :


En France
La Maréchaude
Les Courtelongs
Les Crays
Sur le Roche
Municipality of Chaintré :


Le Clos de Monsieur Noly
Le Clos Reyssié
Les Chevrières
Les Plessys
Pouilly-Fuissé wine is produced at the foot of the two rocks of Solutré and Vergisson. We can speak of a high place of prehistory, many objects have been found during archaeological excavations (bones, cut flints, skeletons of Cro-Magnon men), they are exhibited at the Museum of Prehistory in "Eyzies-de-Taillac".


A site of exceptional beauty giving wines with a strong identity, with green reflections which unveils aromas of citrus (lemon, ...), yellow and white fruits (peach, apricot, ...), rocks ( flint,...). On the palate these wines are opulent, rich and after several years of aging develop aromas of dried fruits (hazelnut, toasted almond, ...). Its vineyard is the most prestigious in the Mâconnais.


The most fruity wines will go perfectly with exotic cuisine (couscous, fish tagine, etc.) as for the more mineral ones, they will rather be appreciated with lobster, oysters, sweetbreads with cream. It's divine, an explosion of flavors on the palate !
Pouilly-Vinzelles and Pouilly-Loché share the same terroir and the same history.
Pouilly-vinzelles


Pouilly-vinzelles is a very small appellation of 52 hectares, which is located in the municipalities of Vinzelles and Loché. The hillside is gently sloping and exposed to the east, composed of clay-limestone soil.


The Pouilly-Vinzelles appellation offers a wine with aromas of candied fruit (lemon, etc.) and it can keep very well (from 5 to 10 years), it can be tasted with a duck with porcini mushrooms, a chicken cream or shellfish.


Pouilly-loché


Exclusively in the town of Loché, with an area of 32 hectares and it is a clay-limestone terroir.


A flattering wine, full-bodied in its youth and citrus notes (lemon, ...) after 5 to 10 years. It goes wonderfully with poached turbot in Hollandaise sauce, duck breast or even Mediterranean cuisine.


Saint-véran


The communal appellation saint-véran was created in 1971, with an area of 680 hectares and a predominantly limestone terroir. The vines are planted at the bottom of the slope.


The wine reveals an aromatic bouquet, on the palate a supple, fruity wine and a beautiful roundness. It can be enjoyed in its youth or wait 5 to 7 years, pleasant to enjoy as an aperitif or with grilled meats.


=> Note that the name of the town is written Saint-Vérand, with the letter "d" at the end, but when it comes to wine it does not take it and is written "Saint-Véran".



Viré-clessé
The appellation viré-clessé was born in 1999 (it replaced the AOC mâcon-viré and mâcon-clessé) exclusively from white wine made from the Chardonnay grape variety. Its vineyard faces east, 260 meters above sea level; its basement is composed of white oolitic limestone at the top of the hill and the pearly slab below.



The municipal appellation viré-clessé now covers 390 hectares spread over four municipalities :


Viré
Clessé
Montbellet (north of Viré)
Laizé (south of Clessé)
The main climates are :


Le Creusseromme
Le Chapitre
Chazelle
Roally
L'Epinet


=> Viré-clessé is the only appellation producing atypical sweet wines in the Mâconnais region. Wines with a higher sugar content than classic viré-clessé (whose sugar content corresponds to less than 3 grams) can write the words "Levrouté" or "Demi-sec". This has been official since May 3, 2018. 


In order to benefit from these mentions, strict specifications must be observed :



for the mention "Levrouté": the harvest must be done by hand and the sugar content must be between 8 and 18 grams per liter.


for the mention "semi-dry": the harvest must also be done by hand but with a sugar content of between 4 and 8 grams per liter.


The commune of Clessé cumulates favorable conditions for noble rot and late harvest.


The wines of this appellation reveal notes of white flowers (peony, ...), exotic fruits (mango, ...), herbal teas (verbena, ...) and empyreumatic (blond tobacco, ...). A pleasant, balanced wine (between sweetness and freshness on the finish).


Chardonnay loses acidity and gains in residual sugars. Served as a dessert wine, accompanied for example by a fruit tart or a chocolate cake.



Wishing you great tastings !
THE 5 COMMUNAL APPELLATIONS OF Mâconnais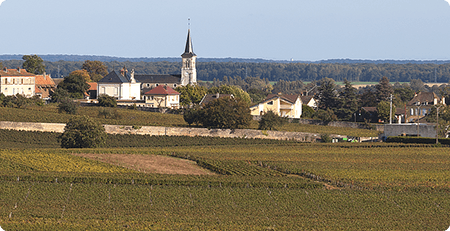 The appellation offers only white and it is the most prestigious in Mâconnais.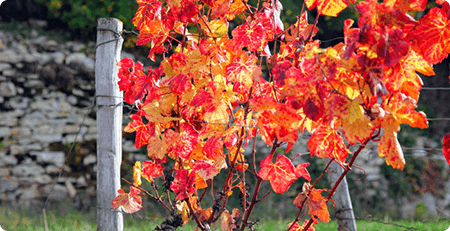 Pouilly-Vinzelles produces complete wines, with hints of candied lemon.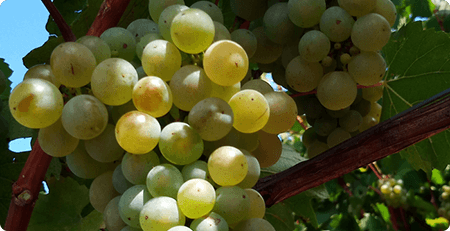 The white wines of this appellation are more corpulent, supple and tasty.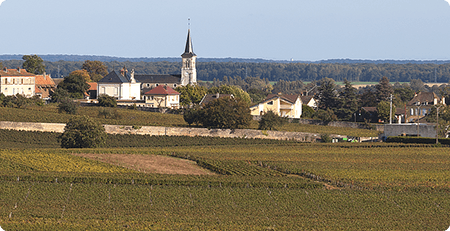 Wines dedicated to white, on the palate they are mineral, round, fruity and pleasant.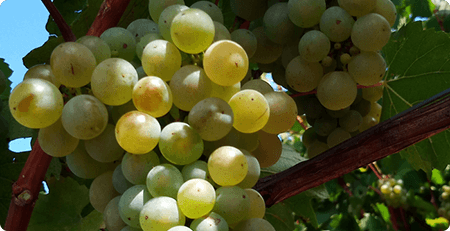 Viré-Clessé produces dry white wine and syrup, very pleasant to taste.