Domaine Le Meix de la Croix - Fabienne et Pierre SAINT-ARROMAN

Located between the famous villages of Givry and Mercurey, the domaine le Meix de la Croix is located very precisely in the valley of Vaux, in the village of Saint-Denis de Vaux.
Beaune is about thirty kilometres to the north and chalon sur saône, some fifteen kilometres to the east.
To locate the Area on Google Maps, click here
Particularly attached to the notion of terroir, to the winemaking traditionnellet and a viticulture of quality, respectful of the vine and the environment, Fabienne et Pierre Saint-Arroman offer a beautiful range of Burgundy wines of very high quality at very attractive prices.
The wines made by the field :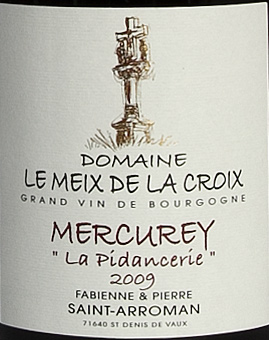 - Mercurey red
- Burgundy Pinot Noir
- Bourgogne Chardonnay
- Bourgogne Aligoté
- Crémant de Bourgogne
- Crémant de Bourgogne rosé
- Burgundy Rosé
More information on the wines of the area : www.saint-arroman.com
The Bourguignon.fr offers you some of these wines at the rate output property, such as Burgundy, Pinot Noir wine, the Crémant de Bourgogne, or Bourgogne Aligoté.
2 videos of return of harvest to the Field :