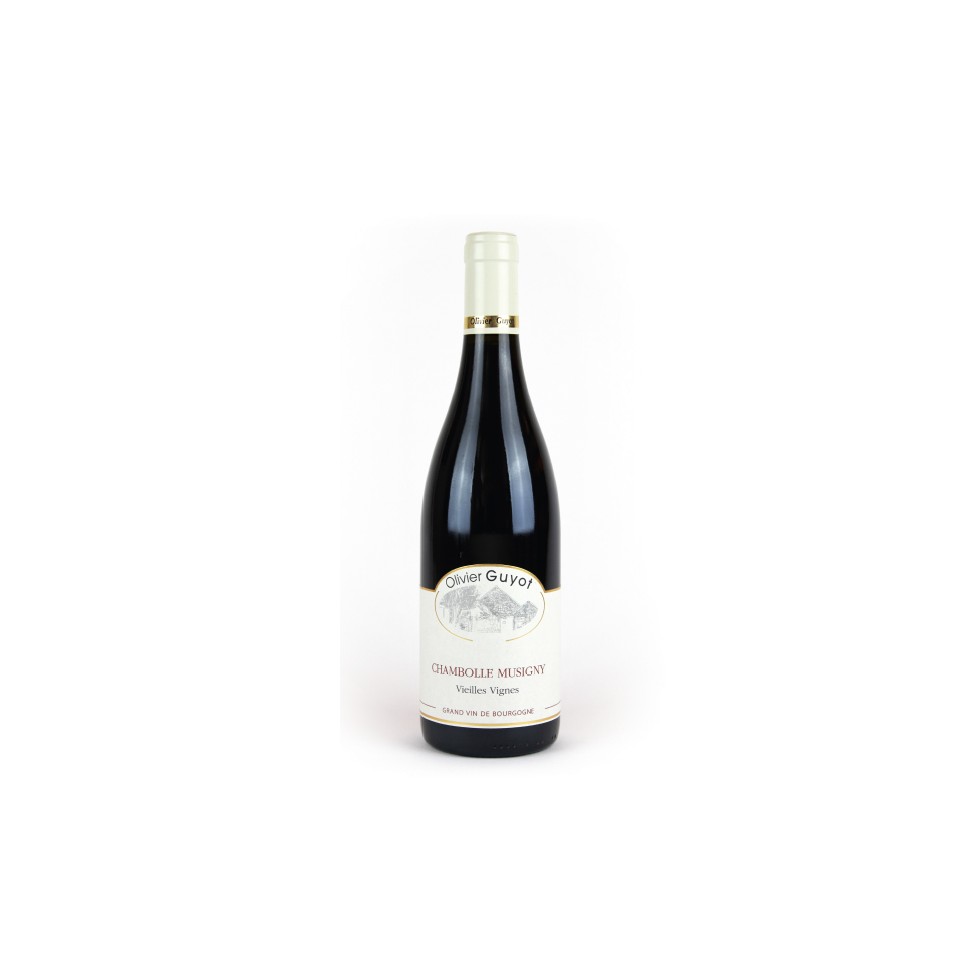 Chambolle Musigny 2017 - Old Vines
Chambolle Musigny 2017 in Old Vines, Domaine Olivier Guyot
more details
---
dégustation
Chambolle Musigny 2017 - Old Vines
Complex

Powerful

Mineral

Fruity

Woody
Chambolle Musigny 2017 - Old Vines - Domaine olivier Guyot
Delicate, refined and intense, this Chambolle Musigny 2017 is a perfect success.
Among Burgundy's finest red wines, Chambolle Musigny in Côte de Nuits is of rare delicacy. Added here to an exceptional vintage, the wine is of remarkable balance and aromatic power.
This red Chambolle Musigny comes from three vines planted in the 1950s, located at the foot of the village on slightly sandy and marl soil.
The wine is aged 12 months in oak barrels, one third to half of new barrels.
Red wine with floral aromas (violet) and red fruits, it will quickly bring a roasted side. Round, with a delicate and velvety texture.
The keeping of this wine of an exceptional vintage will be possible up to 15 years.
Mets-wine pairings:
Eggs in meurette, lamb ribs, delicate cheeses
Wine serving temperature: 16 to 18 degrees
mets & vins
Full, round Burgundy red wine: pasta and risotto, grilled or roasted pork, roasted veal, sauce or pan-fried, Lamb, poultry, rabbit, roast beef, game birds, liver, kidneys in sauce, skewers, kebab, woks, camembert, brie
caractéristiques
Appellation

Village

Type of Wine

Still

Wine Making

Oak casks

Grape Variety

Pinot Noir

Harvest

Manual

Burgundy Region

Côte de Nuits

Vintage

2017

Service

14 to 16 degrees

Custody potential

2026
appellation
Chambolle Musigny

Chambolle-Musigny is a red wine, often regarded as the most "feminine" wine of the Côte de Nuits; its intensity and delicacy express themselves with elegance and subtlety. To the eye, it presents a bright ruby hue with luminous highlights. It may darken a little over time but with no loss of impact. Its bouquet, easily recognisable, is composed of violet and small red fruits (raspberry, strawberry). With further aging it tends towards spiced ripe fruits and prune, or towards truffle, underbrush and animal notes. Rich, fragrant and complex, it lines the palate with silk and lace. Its delicate but fleshy texture in no way detracts from its solid and durable structure. On the sweet side with little trace of acidity, its tannins remain silky-smooth.

With a personality that allies power and feminity, it demands high-flavoured and sophisticated dishes like feathered game (in sauce, for example), well-roasted lamb or a free range capon. Roast veal's subtle texture would be delicately enveloped by the dense but silky tannins of the Chambolle (especially the Premiers Crus). Cheeses - preferably mild: Brillat-Savarin, Reblochon, Cîteaux, Vacherin, Brie de Meaux or Chaource. Soft-centred cheeses will respond to its great aromatic complexity.
Serving temperatures: 12 to 14°C for young wines,14 to 16°C for older wines.
 
This little village of the Côte de Nuits, formerly an adjunct of the Abbey of Cîteaux, is unwilling to expand, since to do so would mean encroaching on its precious land (though it has given space to a lime-tree with a girth of 5 metres!).
Two superb appellations Grands Crus are grown here: BONNES-MARES, which links its vineyards to those of Morey-Saint-Denis, and MUSIGNY which overlooks the Clos de Vougeot. The village also boasts among its fine wines a prestigious Premier Cru, Les Amoureuses. Its AOC dates from September 1936, making it one of the first French vineyards to be thus designated.
 
The slope faces east at altitudes of 250-300 metres with only a shallow covering of soil overlying the parent rock, but fissures in the hard Jurassic limestone allow the roots to seek nourishment deep within the sub-soil. Boulders and gravels in the valley bottom ensure good drainage.

Source : https://www.bourgogne-wines.com
domaine
Domaine Olivier Guyot
Olivier Guyot Estate - Marsannay

In the heart of the Côte d'Or vineyard, where, often, hectares rhyme with nectars... It is in Marsannay-la-Côte that the Domaine Olivier Guyot is located!

Born into a family of winemakers, Olivier Guyot has been cultivating his vines since 1998 with passion in reasoned culture.

Maintaining thenatural balance of the vine and respecting the diversity of each terroir as much as possible is Olivier Guyot's philosophy.

Today, the Estate covers 15 hectares of vineyards made up of many small plots, which are on average 45 years old.